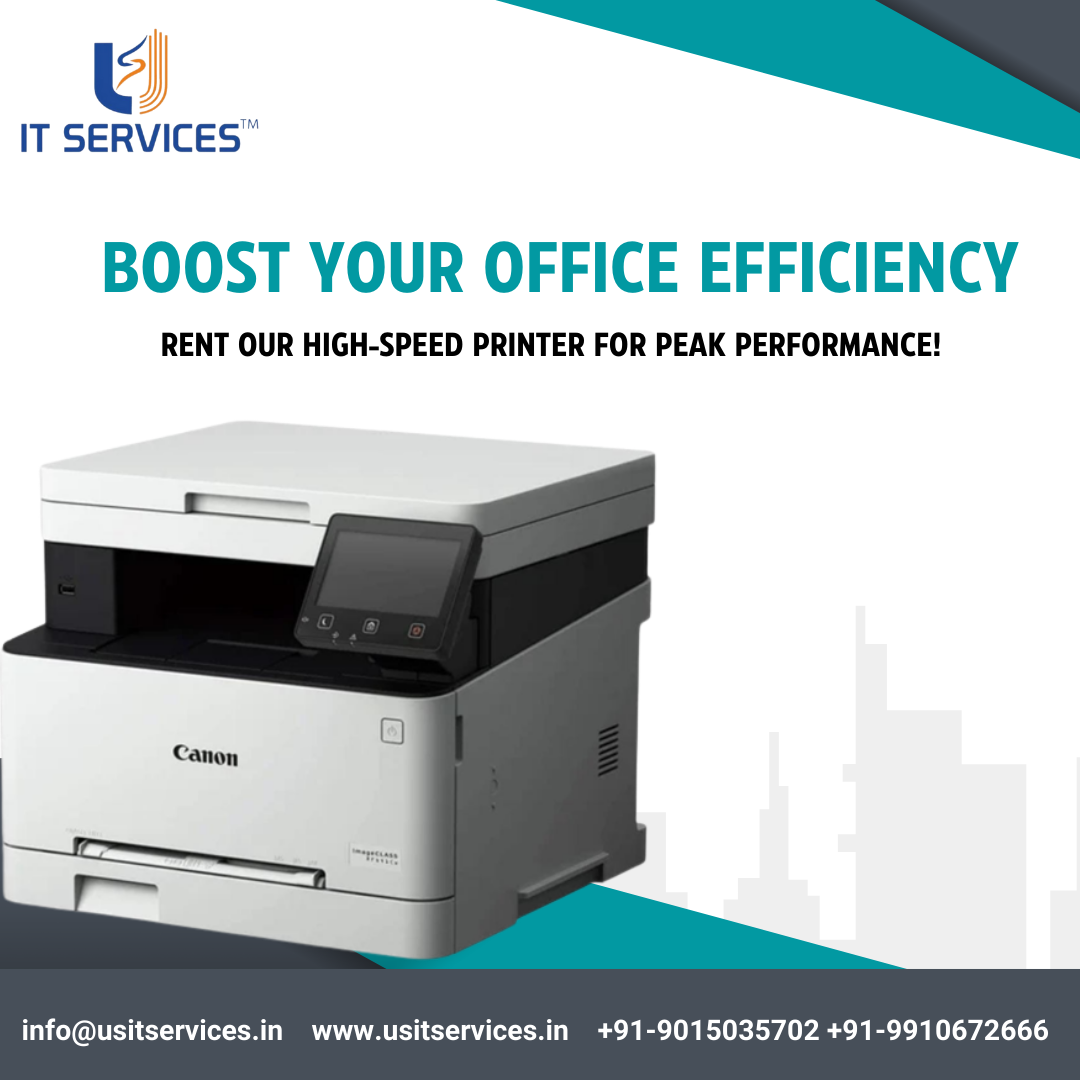 With the modernisation of every aspect, we are surrounded with, only the efficient gadgets can drive your business towards success. To streamline the operations, to adapt a smooth workflow management, every business and company looks for the right gadget on a budget. Here the cost and maintenance of these essential devices often came up as a challenge for businesses of all sizes.
This is where the concept of renting office printers comes in. US IT SERVICES, a leading gadget rental company, has been bringing a change in office equipment rental landscape and hence enabling businesses to improve their productivity through the smooth rental experience. In this blog we are going to discuss how renting modern office printers can significantly enhance document management and streamline workflow efficiency.
How the concept of renting office gadgets is helping businesses?
In this digital age, where paperwork and documentation remain an important part of any organisation, the need for reliable, high-quality office printers is something one cannot ignore. Let us discuss some facts about how renting office gadgets can help businesses and different companies.
Simplifying Document Management
Effective document management is the main objective of any successful business. Office printers for rent provided by US IT SERVICES allows organisations to optimise their document handling processes. By having access to the latest printer models, businesses can effortlessly meet their printing demands without worrying about the financial burden of purchasing expensive equipment outright. This approach not only saves capital but also ensures that businesses have access to the best quality printers for office use on rent, without compromising on performance or reliability.
Enhanced Workflow Efficiency
In today's dynamic work environment, the smooth flow of information is important for maintaining operational efficiency. Renting office printers from US IT SERVICES facilitates a smoother workflow which allows employees to focus on their core responsibilities without the added stress of equipment management. With quick and easy access to printers on rent, businesses can maintain a consistent flow of operations, eliminating potential hurdles that could disturb productivity. This approach enables teams to meet deadlines efficiently and deliver results adequately by following the process of productivity and success.
Leveraging Advanced Printing Options
The modern office demands more than just standard printing capabilities. With the advancement of technology, printers have evolved to offer a multi-dimensional set of features that developed to diverse business needs. US IT SERVICES ensures that their rented printers come equipped with cutting-edge technology, including wireless connectivity, enabling seamless printing from multiple devices. This feature alone significantly improves collaboration and promotes a more flexible working environment. Additionally, the availability of advanced printing options, such as double-sided printing and high-resolution output, allows businesses to create professional-grade documents without the need for external printing services.
Automated Maintenance Services for Hassle-Free Operations
Managing printer maintenance can be a time-consuming and difficult task for any organisation. US IT SERVICES recognizes this challenge and provides comprehensive automated maintenance services as part of their rental packages. This essential approach ensures that the rented printers operate smoothly and efficiently to minimise the risk of unexpected downtimes or technical difficulties. With regular maintenance and support readily accessible, businesses can focus on their core objectives, knowing that their printing infrastructure is in expert hands.
US IT SERVICES: Empowering Businesses Every Step of the Way
US IT SERVICES is not just a gadget rental company. With a customer-centric approach, we prioritise the needs of businesses and offer tailored solutions that align with their specific requirements. Whether it's providing the best quality printers for office use on rent or offering comprehensive technical support, US IT SERVICES remains committed to empowering businesses by simplifying their printing infrastructure management. Our dedication to excellence and customer satisfaction has solidified our position as a trusted partner in the journey towards operational efficiency and growth.
What we discussed?
The decision to opt for office printers for rent is a strategic choice that can significantly impact a company's workflow and productivity. US IT SERVICES has developed as a reliable solution, offering businesses the opportunity to access top-tier office printers without the financial strain of ownership. By adopting this innovative approach, businesses can streamline their document management, enhance workflow efficiency, and unlock their full potential in the competitive landscape of today's business world. Embrace the future of efficient printing with US IT SERVICES and experience a seamless, hassle-free printing solution that propels your business forward.