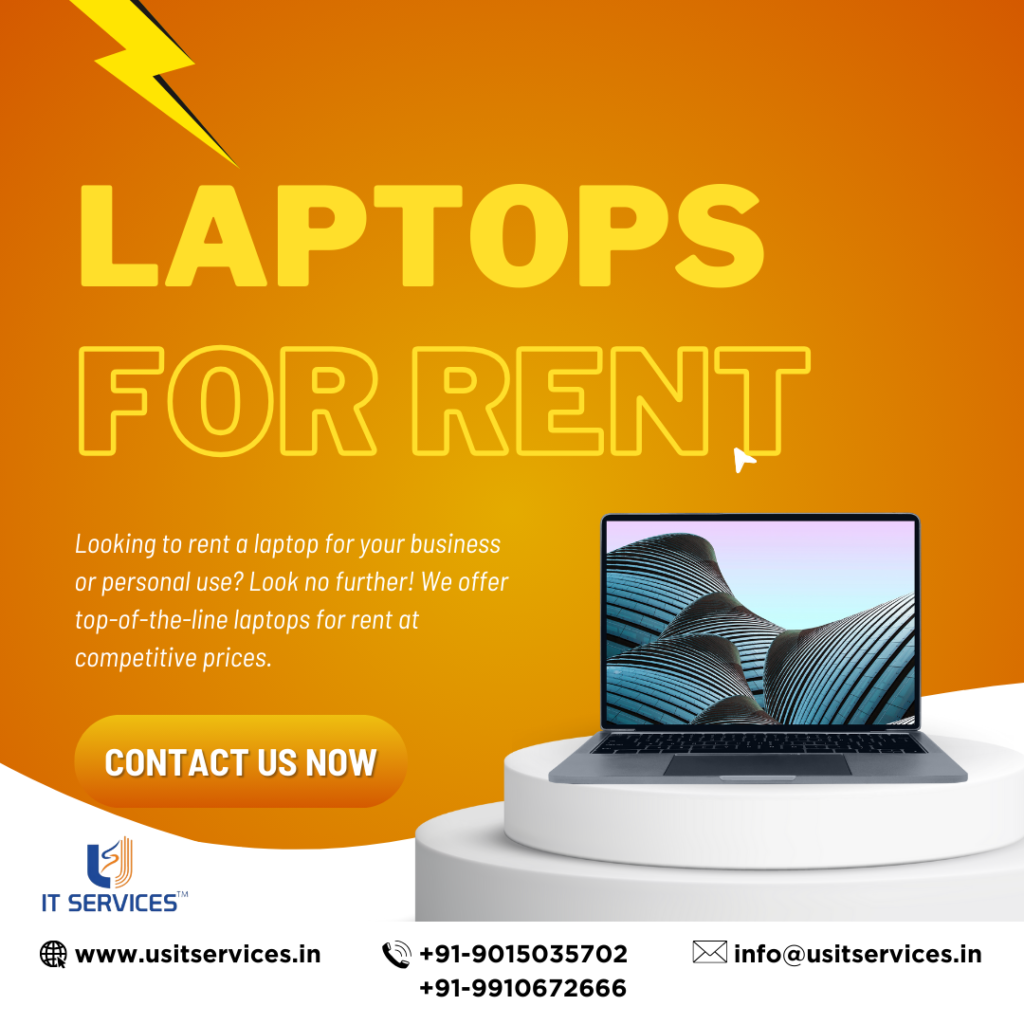 Today, gadgets like laptop plays a very vital role in our lives. Hence staying updated with the latest gadgets is not just luxury but a necessity. For individuals like students, corporate workers, having access to high-performance computers is important to keep up the pace of the world.
Well, owning a high-performance laptop is not financially possible for all. This is where the concept of laptop on rent comes under the limelight. This blog will guide you about some major aspects of gadgets rental services.
What are Rental Services?
Rental services are a helping hand for all those who need the access to technology without tackling with the high amount on price tag. By this process individuals and businesses can use a laptop for a specified period at a fraction of the purchase cost. Some major aspects of laptop on rent services are:
Cost-Effectiveness
Opting for a laptop on rent is a cost-effective solution. It contradicts the need for an initial investment, making it an attractive option for many, especially for start-ups and students.
Up-to-Date Technology
The field of technology is rapidly growing and has a vast area. Rental services enable access to the latest models and high-tech laptops without worrying about undesirability.
Maintenance and Support
Rental companies often provide maintenance services and support, ensuring that the rented equipment is in the utmost condition and any technical issue, if present, is resolved on time.
Advantages of Renting a Laptop
The basic vision of this blog is to guide you about how "US IT SERVICES" is working as the best company which provide high range of laptop on rent with best quality. But before taking about this, it turns important to discuss some major pros of getting the service of laptop on rent in Delhi. The concept of renting a laptop comes with a collection of advantages, some of these are follow:
Renting allows for better financial management by eliminating the heavy upfront costs. By this one can save huge amount of funds and can utilise it in other crucial areas.
Flexibility and Convenience
Whether you need a laptop for a short-term project or a longer duration, rental services provide the flexibility to choose according to your requirements. This makes the service of laptop on rent with best quality a economical option.
One of the most significant benefits is the ease of upgrading to a better model. When you get any type of laptop such as gaming laptop on rent, you can easily upgrade to the latest version by contacting the company anytime. By this you can ensure that you always have a high-performance machine to work on.
Why Choose US IT SERVICES?
When it comes to getting a laptop on rent in Delhi NCR, 'US IT SERVICES' stands out for its commitment to providing the best quality laptop on rent. But that's not all. Here's why 'US IT SERVICES' is the ideal platform for renting laptops:
Wide Range of Options
With a vast collection of options, be it a best quality laptop on rent or a desktop, 'US IT SERVICES' provides to varied needs ensuring customer satisfaction.
Quality Assurance
Here quality is not compromised. Each laptop on rent provided by us comes with best quality assurance. This shows our dedication to providing superior products every time.
Seamless Customer Service
US IT SERVICES works for full-bodied customer support which ensures a smooth renting experience, addressing all concerns and technical glitches in a timely manner.
Economical Solutions
Offering competitive pricing, 'US IT SERVICES' ensures that getting a laptop on rent does not burn a hole in your pocket.
Conclusion
In this era of technology, every gadget like laptop, comes up with upgraded versions time-to-time. Buying the latest version of laptop every time without any financial issue will not be possible for everyone. "US IT SERVICES", saves you from any financial glitch. With the array of benefits such as cost-effectiveness, access to up-to-date technology, and hassle-free maintenance, choosing to rent a laptop is a decision identical with carefulness and convenience.
Particularly in regions like Delhi NCR, where the digital wave holds a significant way, having a reliable and economical solution like 'US IT SERVICES' is precious. As we are continuously moving towards a more digitized future, adapting smart solutions like renting laptops will be the stepping stone to a more financially practical and technologically advanced society.